This Portal allows you to manage your team members, assign roles and give Account level and Spreadsheet level permissions from here. It also contains of all Team details like Team name, Billing address, Billing name, Created date and account owner related to your Two Minute Reports Account.
You can also login to TMR Accounts Portal using your google account or using the OTP methd.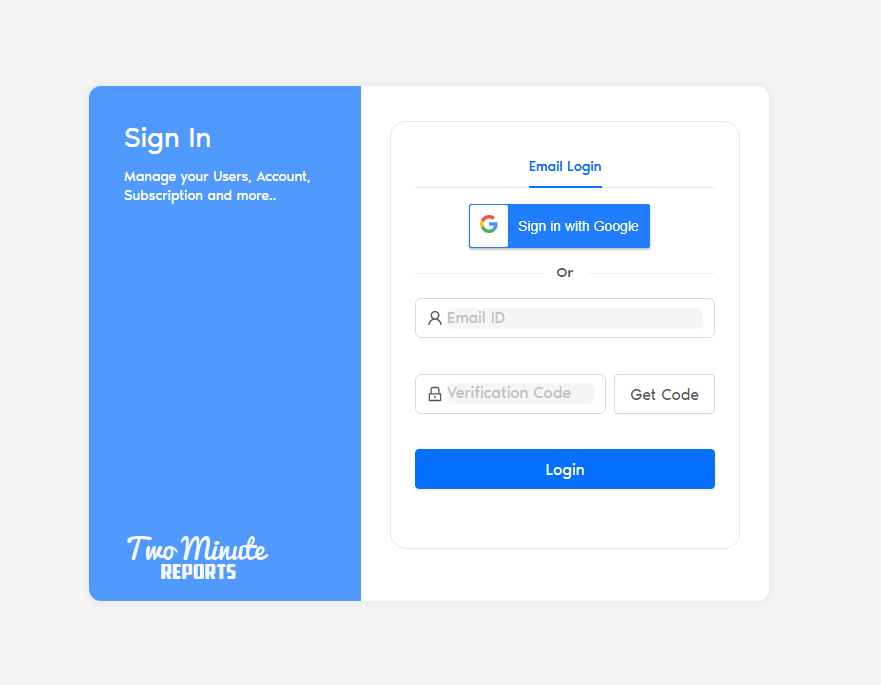 Select Two Minute Reports for Google Sheets After logging in successfully, Select Two Minute Reports for Google Sheets.

You would see your the Applications that you have used from Two Minute Reports , click on the Two Minute Reports Card to view the Account details.

Manage your Plan and Account details
Here, you can view your Current Plan type, Subscription Status of the plan, Renewal date and number of Users.

You can go and modify your Subscription details by clicking on the Manage Plan and Billing link shown in the image above. It also contains your Billing History, Payment methods and Billing addresses.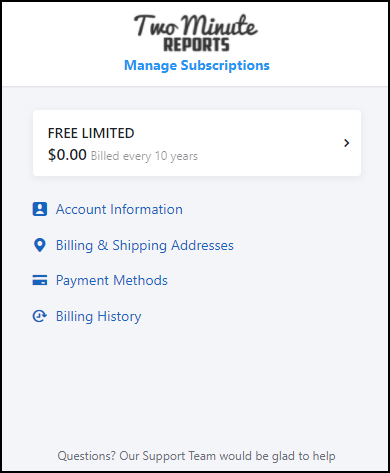 From the Subscription Page you can,
Upgrade/Downgrade your subscription to new Plans or Addons
Download your Invoices
Update your Billing Address
Update your payments methods
Manage Team Users and Permissions
If you scroll further down in the Accounts portal, you can view the Teams owned by you and the Teams which you are present in. Add a user with ease by clicking on the Add button.

Here you can add/remove users and manage their permissions
By clicking on Add user, a dialogue box would appear where you need to fill in the following details
The "E-Mail" ID of the user whom you want to invite to your Team. This email-ID should be the Email Id, that the user will use to log into Google Sheets.
The "Spreadsheet Role" determines the level of access the users in the Team will have when using Two Minute Reports for Google Sheets. These permissions determine what the users can or cannot do with Queries, Data Sources and Schedules in Two Minute Reports
| | | | |
| --- | --- | --- | --- |
| Permission Level | Query | Data Source | Schedule |
| Viewer | View | View | View |
| Editor | View/Edit | View/Edit | Only the person created can Edit |
| Owner | View/Edit/Delete | View/Edit/Delete | Only the person created can Delete |
Spreadsheet Roles and Permissions
Account Permission– The Account permission determines the permissions users have for viewing and managing the Accounts portal.
View : View users can only view the TMR Account Portal.
Manage : Users with Manage permission can add/edit or delete users in the Accounts Portal.
External User : In Two Minute Reports if you need some help setting up a report for you, you can invite other users to your Team for a short period. These users can be invited as External Users, and they don't require you to have an additional User license. This option is only available for users in Pro plan currently.
We hope you liked this Tutorial on how to use the TMR Accounts Portal, Add new users, New Teams, Edit and Delete Users. If you have any questions please feel free to comment below or contact our Support Team.