The Ultimate Data Reporting Tools side-by-side Comparison

What is a Reporting tool, and why do I need it?
For most businesses, data is in every nuke and corner, but monitoring them is a difficult task. A reporting tool will be the solution, but deciding how to choose one isn't easy. For there are plenty of them available in the market.
Basically, at the core, all reporting tools help marketers pull data from any source, but what differentiates them are factors like how conveniently does the tool work? the price you're going to pay for the tool, the value of support the company offers you, the number of data source integrations, the number of customization options you get, and finally what customers feel about the tool.
To help, we've compared Supermetrics, Fivetran and Two Minute Reports on key factors mentioned above, so you can make an informed decision that fits your needs.
Our comparison is for users who are looking for Self Serving reporting for their marketing reports. This means they need to work faster, with zero need for coding or developer team support. The best reporting tool, create reports faster with zero maintenance costs. We also look at how the tools compare in fetching data in real-time without any delay.
How do the
features

compare?
| Feature Comparison | | | |
| --- | --- | --- | --- |
| Starter Plan | ≈$112/month | ≈$500/month | $5/month |
| Ease of Use | | | |
| Hourly Refresh | ❌ | ❌ | |
| Daily Refresh | | | |
| Send reports inline email's body | ❌ | ❌ | |
| Email PDF, Excel Sheet as Attachment | | ❌ | |
| Email Reports Automatically on Schedule | | ❌ | |
| Works inside Google sheets | | ❌ | |
| Customization options | | | |
| Data Source Integrations | | | |
| Free Trial | | | |
| Predefined templates | | ❌ | |
| Learning Curve | | | |
| Help & support | Support Forums | Support Tickets | Call, Chat, Email |
| Query Management | | | |
| Data Source Management | | | |
| Team Collaboration | | | |
How
convenient

is it, to get your work done?

Supermetrics provides the user with a sidebar in google sheets. The sidebar helps you monitor all your marketing data and insights without having to move out of the spreadsheet. On the downside, the user interface is very old-styled. To fetch the necessary data, the user is required to input a large number of clicks.

Fivetran is a unique enterprise reporting tool. It has its own web application. You have to log in to the application, set up your accounts and data sources. This makes it inconvenient to see any immediate changes that you make. You are forced to use two applications side by side to create meaningful reports.

Fivetran's web application fetches the data from all add accounts. The data is then exported to spreadsheets separately.

Two Minute Reports provides users with a modern easy to use interface. TMR's sidebar is within the spreadsheet. TMR allows you to get users jobs done in a matter of clicks, without having to move out anywhere from the spreadsheet.

Two Minute Reports helps small to medium scale companies easily self-set up the tool, with zero coding knowledge. TMR does not require any maintenance and is updated more frequently than other reporting tools.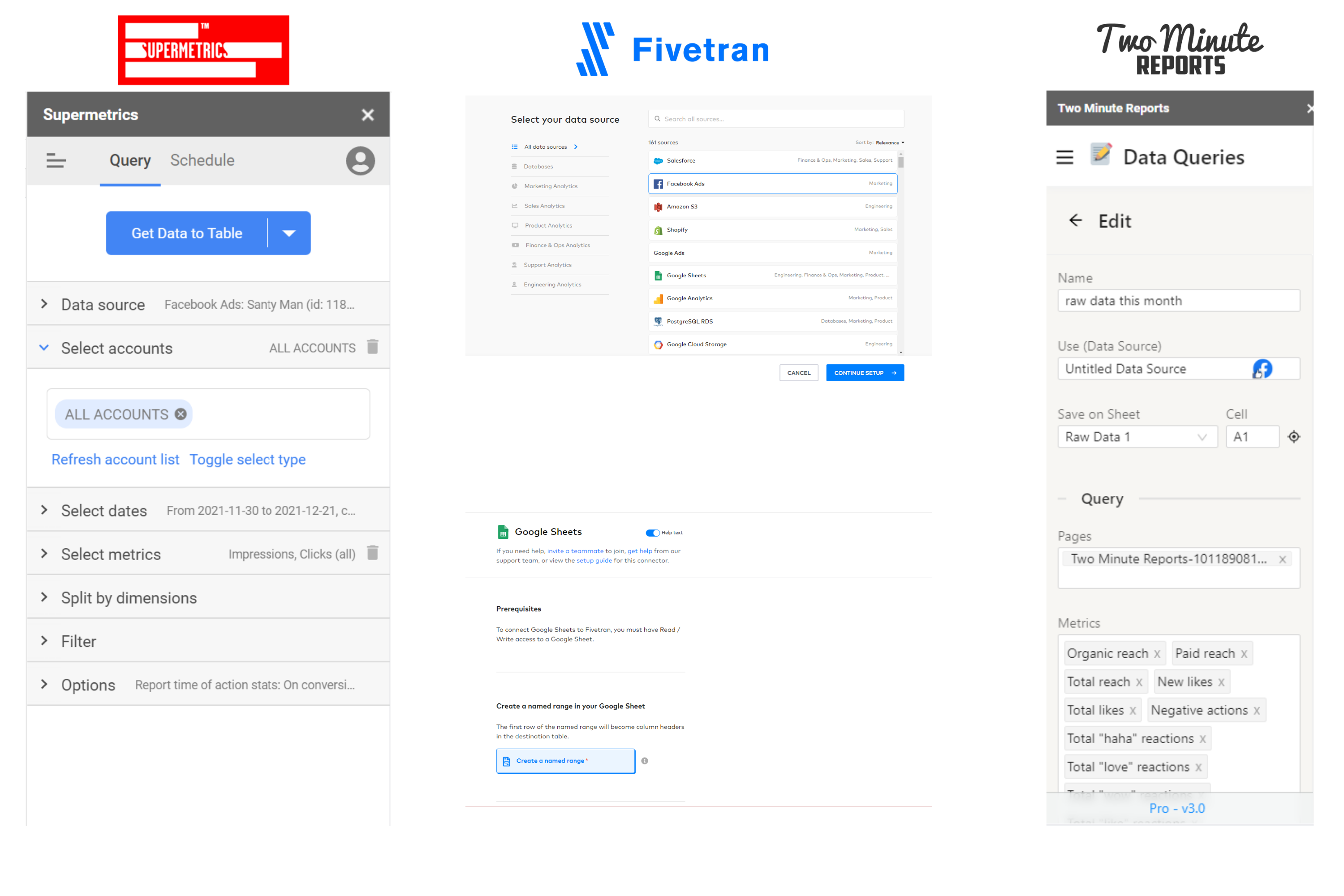 How
friendly

is the tool?

Supermetrics' sidebar provides a variety of features. A lot of those features are hidden and are difficult to figure out. The user will have to spend a lot of time understanding the tool.

In Supermetrics, to duplicate a report, the user is redirected to many pages before the duplication is completed.

Fivetran, unlike others, won't work inside google spreadsheets. Fivetran provides the users with a web application. Users are required to switch tabs back and forth to generate a meaningful report. Also, Fivetran does not support duplicating reports.

Two Minute Reports has a handy sidebar like Supermetrics. Learning about the tool is super easy, barely an inconvenience. Duplicating reports with TMR can be done in a blip, without having to redo the whole report. Two Minute Reports also provides users with the option to collaborate as a team.

The following screenshots show how to manage data sources, in Supermetrics, Two Minute Reports.

The following screenshot is the difference between query management in Supermetrics and Two Minute Reports.

The following screenshot compares the difference between the template gallery in Supermetrics and Two Minute Reports.

How does the company
support

you?

Supermetrics provides users with a support forum. It is provided with written articles to help users find solutions to their problems. Supermetrics also has a ticket system. In this system you have to raise a query, an assistant will reach out to the user's email.

Fivetran has a ticket rise system on its web page. A person will assist you as quickly as possible when you post your query. Fivetran also provides users with the classic email support system.

Two Minute Reports provides users with the option of chat, email, and direct call-in support. The user can choose whichever method works best for them.

Two Minute Reports provides you with not just the software reporting tool.
The user also gets timely free services,
Team training to help understand the tool better,
Helps you create custom reports that suit your need.
Users can request additional metrics/dimensions that they may additionally require,
Users are also helped to set up the tool with onboarding calls.
All this and more at no extra cost!
Do you get all the necessary
data source

integrations

?

Supermetrics and Fivetran provide users with a varied number of data sources. The numbers vary according to the plan user selects. Additional data sources or users cannot be added for basic plans. On both platforms, users get unlimited data source accounts and additional users only in enterprise plans.

In Two Minute Reports, users are given the option to add additional users and data source accounts as per the user's need.

Supermetrics has over 60 data sources for users to choose from. A handful of these data sources can be connected to the spreadsheet to generate a report.

Fivetran has over 100+ data sources, from which users can select.

Two Minute Reports supports all major data sources. Many more data source integrations are yet to come.
How do the
templates

compare?

Supermetrics templates are generic. The templates designed by supermetrics, store all the data queries within the spreadsheet. Users should be careful. If the queries are accidentally deleted, they are not recoverable.

Fivetran does not provide any pre-defined templates. Fivetran mainly concentrates on ETL(Extract, Transform and Load), which requires help from the design & development team to fully implement.

Two Minute Reports offers users a variety of well-crafted templates. The templates cover all major ad generating platforms. Users can choose from the templates that will perfectly suit their needs.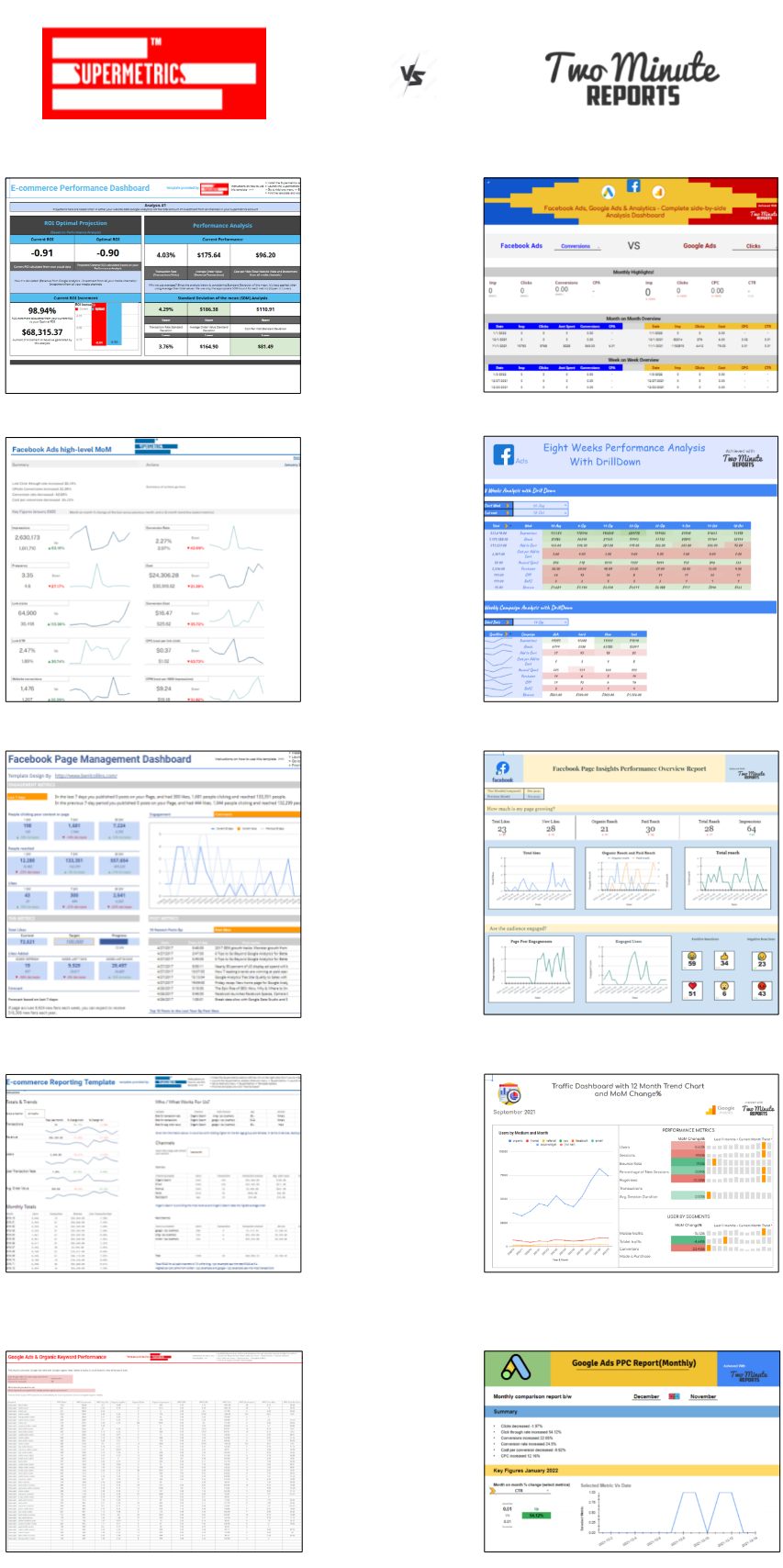 Two Minute Reports' templates are more interactive and easy to represent data when compared to Supermetrics. Fivetran does not provide any pre-defined templates, so it's not possible to compare them.
What do
users say

?

Reviews are an essential part when it comes to selecting the perfect tool. A company shouldn't be the only one to tell their tool is awesome, what users say will be the final deciding factor for how the tool really works. Here's what people feel about all three of those.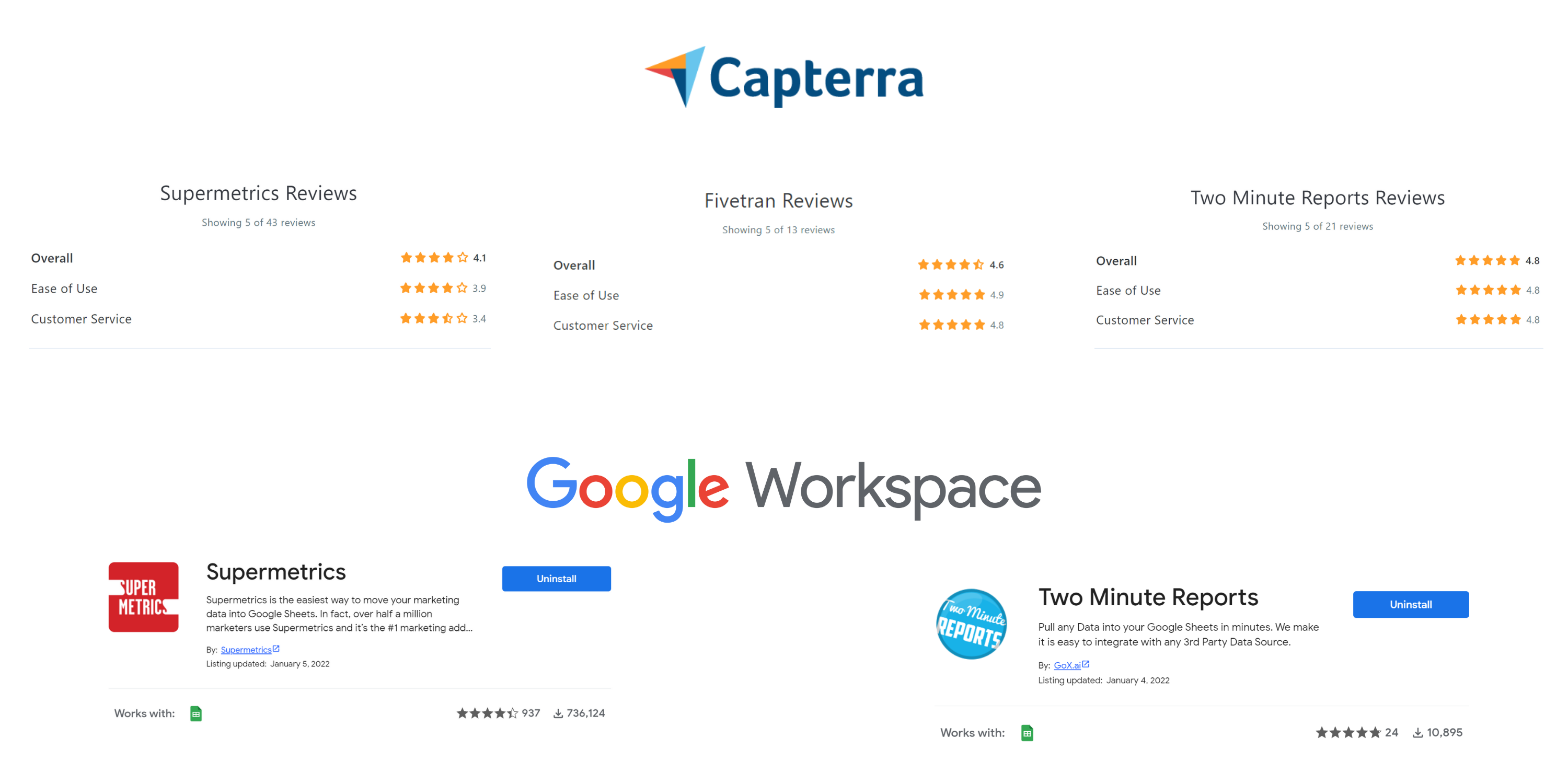 Optimal
pricing

for your use?

Users would never want to pay anything more than for what they use, here is the pricing structure, comparing all three reporting tools, hope this will be useful.
Supermetrics Pricing
Supermetrics offers different pricing plans for users with different needs. Pricing is based on the number of users, data sources, and refreshes. Users are required to contact the Supermetrics Sales team to get pricing information for enterprise plans where pricing is not listed.
Fivetran Pricing
Fivetran offers a complicated pricing model based on data consumption. Pricing tiers are based on "credits" and users will need to calculate their data "rows at rest", "rows updated," and "monthly active rows." Both experienced and new users may struggle to navigate this convoluted pricing model.
Two Minute Reports
Two Minute Reports offers a very straightforward pricing model with prices starting as low as $5/month.Users are offered the option to add as many data sources and users as they seek, still paying up less than alternatives.
Conclusion
Supermetrics is the most popular reporting platform. Being there for many years, it provides a large pool of data sources. But lately, it is losing relevance with its old school interface and monster pricing. With much better features and affordable pricing, marketing agencies and brands are moving towards better alternatives. For loyal Supermetrics users, it may be time to give the alternatives a try for they provide more advanced features and are more suitable for the modern era.
Fivetran with the aim of mainly serving large scale companies, Fivetran primarily promotes ETL. Even if no coding support is needed for the initial set-up, it would be essential for the maintenance and smooth running of the web application. Also, in our analysis, we found that advanced metrics that were easily available in the other two were difficult to find and only high-level metrics were available in Fivetran. Now Fivetran might be suitable for large enterprises that play with tons of data for their data warehouse set up for in house analytics teams.
Two Minute Reports differentiates itself from the others by really catering to the needs of small and medium scale companies of the New Age. Now there's more than one reason to opt for TMR beyond their competitive pricing. The amazing customer support and great user experience with advanced features make them more suitable for the Self Service needs of marketers. If you are a hardcore marketer or someone new in the block, TMR provides a balanced set of advanced features and user experience for you to excel in your work.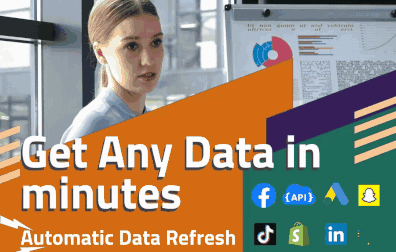 Getting started is super easy
Want to know how we compare to our peers
check out our articles on