A large pool of data can be found anywhere and everywhere. But for marketers segregating it is a big task at hand. marketers find reporting tools as an effective means, but there is again a huge amount of these tools available in the market. While Google Sheets and Google Data Studio has always been the editor's choice for creating reports with their data, there are tools that provide their own platform to create these reports.
In this article, we are comparing some of the popular tools in the market, which is best at what they are doing. we are contrasting Supermetrics, Dashthis and Two Minute Reports to help marketers find out the best tool that meets their desires.
Supermetrics
Supermetrics attempts and streamlines the transport of data from loads of data connectors into the reporting and analytics tools that marketers already know. Supermetrics simply moves your advertising data from all user platforms into destinations like Google Sheets, Excel, and Data Studio. Once there, users can study the perfect statistics they want and assemble custom advertising reviews for their clients, management team, or users very own use.
Dashthis
Dashthis, on the other hand, moves users advertising information into their personal platform. It integrates with a moderate number of marketing platforms, from which users can construct reports with Dashthis's personal reporting tool to monitor users marketing performance.
Two Minute Reports
Two Minute Reports facilitates marketers to manipulate all their marketing campaigns and end-to-end campaigns from all major ad generating platforms. The data can be viewed on popular online platforms like Google Sheets and Google Data Studio. Reports can be created effortlessly in 2 minutes through the predefined template gallery.
So let's bounce into component one and notice how Supermetrics, Dashthis and Two Minute Reports evaluate every difference in terms of the quality of report templates.
Visually appealing Reports
Supermetrics offers generic, alike looking templates. Irrespective of the data connector the user chooses. All the templates consist of the same design, with the same metrics. This is best suited for marketers who want to maintain uniformity with all the reports created for their users.
Dashthis does not have much of an option when it comes to pre-defined templates. There are some really good templates available here, but every data connector does not get an amazing one.
Two Minute Reports provide marketers with some of the best-handcrafted templates for all major data connectors. All templates are fresh and visually appealing, designed for the modern era. Marketers can easily monitor all their metrics from within a single reporting template.
Smooth, Hassle-free reporting process
Supermetrics and Two Minute Reports, design their reports in popular free to use platforms like Google Sheets and Google Data Studio. Whilst Dashthis tend to create reports on their own platform. This style makes it impossible to open these reports on some of the popular free for all platforms. In addition, users of Dashthis have a high probability of getting stuck in a vendor lock-in situation. This is a situation in which both the marketer and their customers are required to own a Dashthis account to edit, view or essentially do anything with the report. Even if the users have switched their reporting platform, they would still be paying Dashthis to use their old reports.
Supermetrics and Two Minute Reports collect data from all your marketing campaigns and end-to-end campaigns and ship them to google sheets or google data studio (or more in the case of Supermetrics). This ensures smooth and easy communication between marketers and their consumers.
Real-time data monitoring
Real-time monitoring of data is very essential for precise and accurate calculations while creating a report. Supermetrics and Dashthis provide a daily refresh of data. But here Two Minute Reports offers an hourly refresh option to help marketers monitor their performance to as close to real-time as possible.
Pricing
According to their pricing page, Supermetrics pricing starts at €69/mo if paid annually.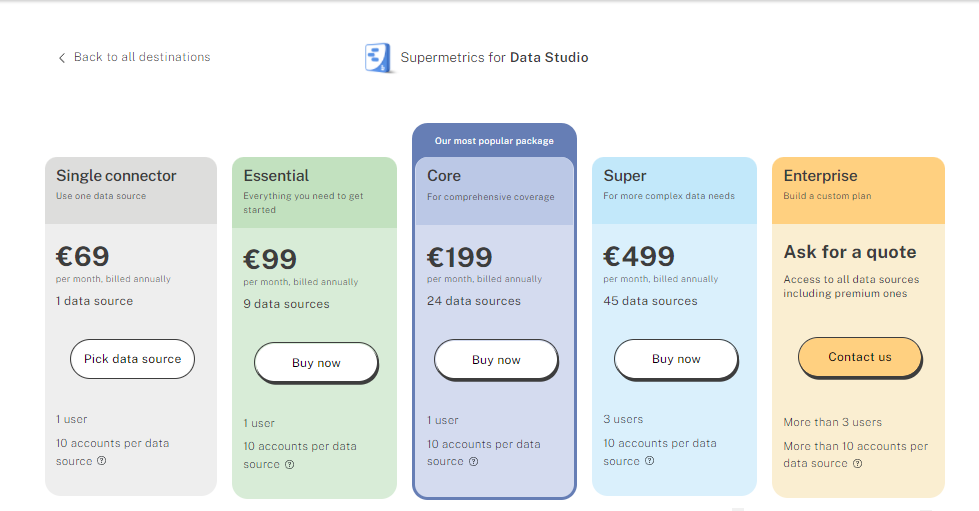 The starter plan lets users connect up to 10 accounts from a specific data source (e.g. 10 Facebook Ads accounts). If users need more accounts with only one data source or need additional users, they need to request a custom plan.

Dashthis pricing starts at $33/mo. They provide unlimited ad accounts and 3 data connectors.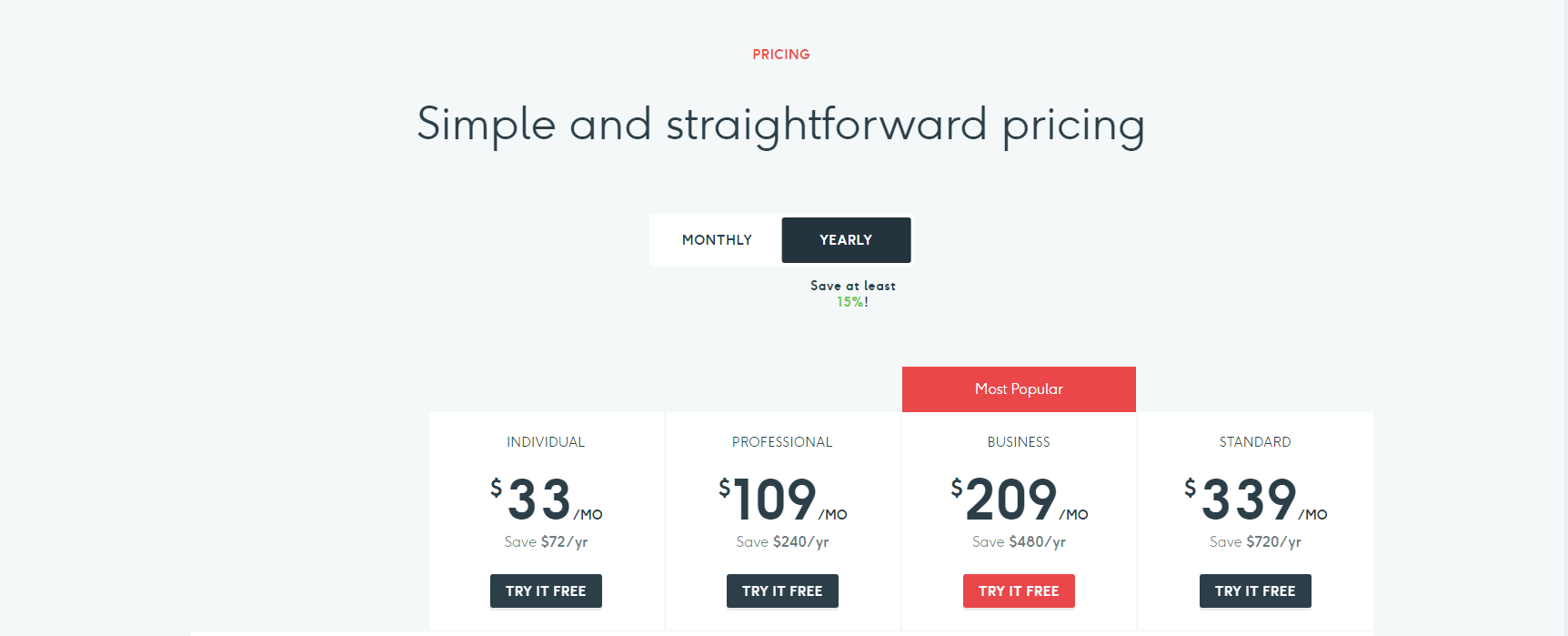 Two Minute Reports Pricing starts from $5/mo when billed annually. And $7/mo when billed monthly. Offering the lowest pricing of all with all major data connectors and some great features.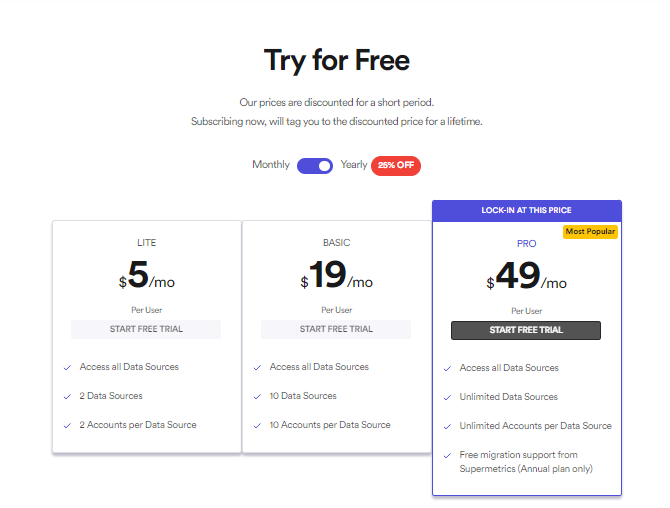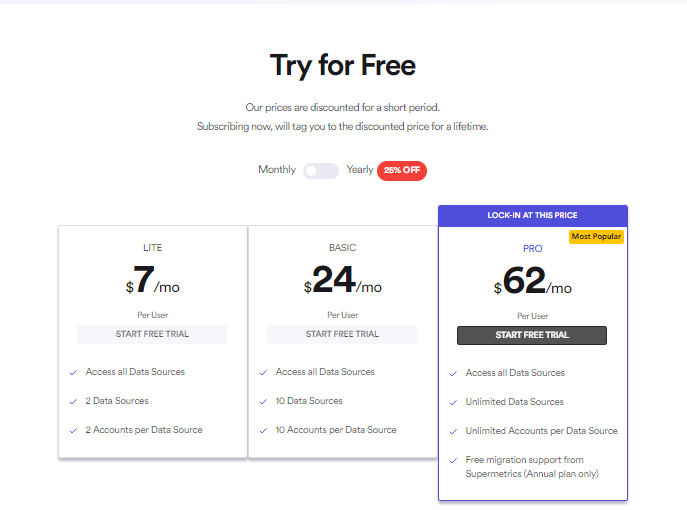 Unlike others, Two Minute Reports provides 2 data sources and 2 Ad accounts per data source with their starter plans. For example, if you choose Facebook Ads and Google Ads. You will be able to add 2 Ad accounts for Facebook Ads(2 Facebook accounts). And 2 Ad accounts for Google Ads (2 Google Ads accounts). In Two Minute Reports, you can customize every plan. Options are given to add as many users and data sources as you desire.
The pro plan from Two Minute Reports offers unlimited data sources and unlimited Ad accounts to users. While Supermetrics provide 10 Ad accounts and Dashthis provides limited Ad accounts, TMR allows you to add 100's of Ad accounts. No problems! While others only provide limited data sources with their pro plans, TMR offers unlimited data sources. And still costs lower than others and provides great value for the money.
Final Thoughts
There are numerous distinct options on the market. Even though a number of them appear comparable at first, each serves a distinct purpose and can be exceptional in use.
Supermetrics are superb for enterprise businesses with plenty of different data sources and visualization needs, Dashthis is best suited for beginners who are just entering the territory and does not need too many data connectors or does not require large processing of data. On the other hand, Two Minute Reports is splendid for smaller businesses that might be seeking out an easy-to-use tool.
Whatever your specific case is, we are hoping that this article might be able to help you find the right platform that suits your needs.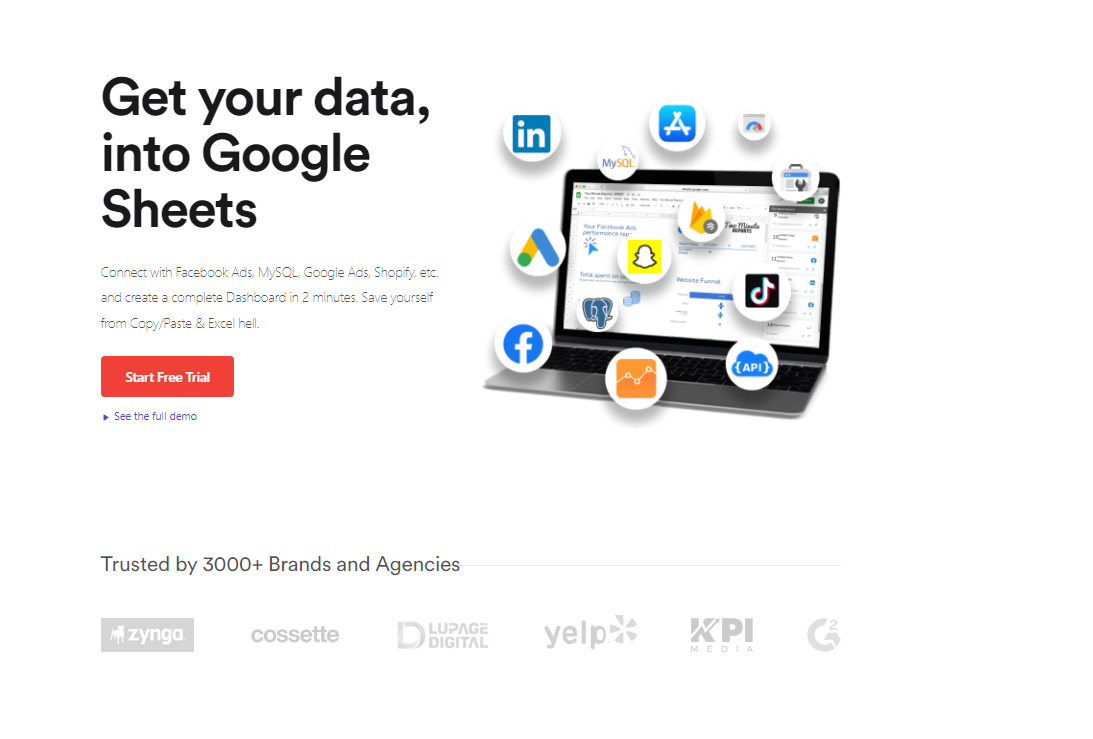 Check out Two Minute Reports now!
Want to know how we compare with our peers
check out our articles on
Supermetrics vs Reporting Ninja
Supermetrics vs Power my Analytics