What is Supermetrics?
Supermetrics is a reporting tool that connects and pulls data from advertising platforms and different sources, which include Facebook, Google Analytics, and Twitter into Google Data Studio, Google Sheets, or Excel.
Reporting platforms save money and time by giving users the graphs and tables they want to put together client-facing reports on marketing campaigns. But in recent times, Supermetrics is facing some downsides. So that users are trying to find other alternatives.
If you find being tied to a single platform inconvenient, and seeking out an extra streamlined and scalable solution, or simply don't think Supermetrics is a great fit, right here are 10+ Supermetrics alternatives that could assist agencies and marketers alike with their reporting needs.
We have handpicked these reporting tools based on customer feedback and reviews on fronts like ease of use, customer service, features, value for money and pricing. So let's dive in.
Two Minute Reports (TMR) is a Google Data Studio connector, Two Minute Reports requires no coding knowledge to set up and use. And getting started only takes a few minutes, since all you have to do is authenticate the data sources you'll be using.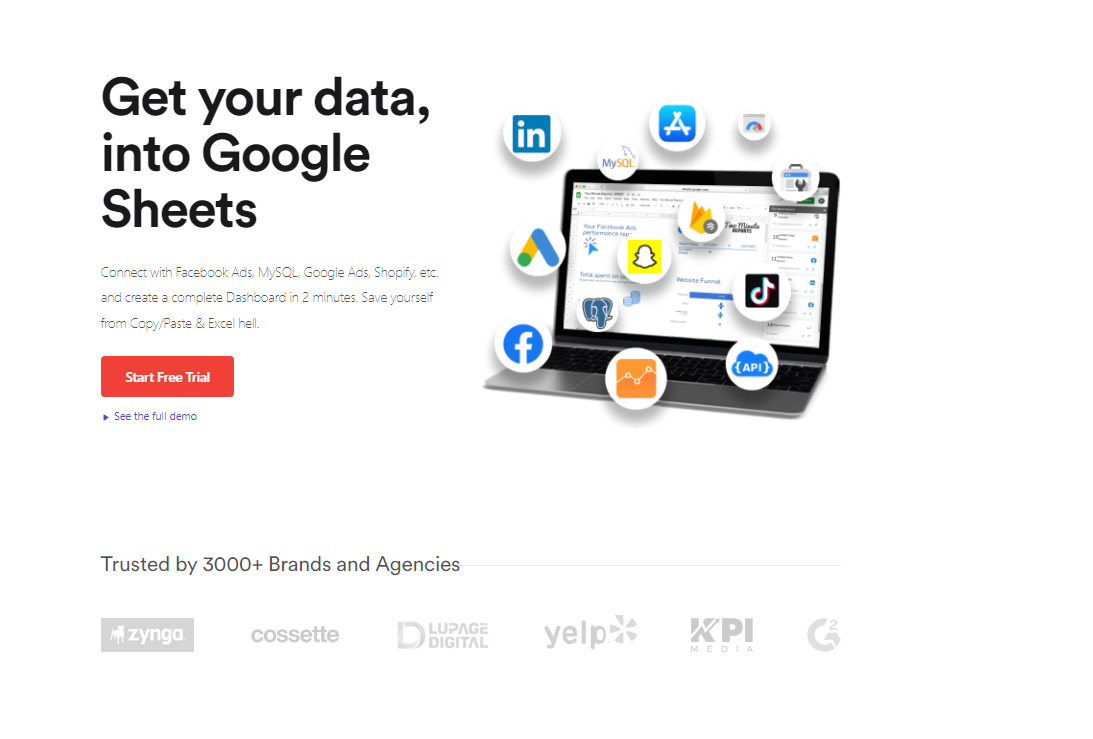 TMR provides one of the best way to easily manage data in both sheets and data studio. That is through a convenient, and modern sidebar. Thus TMR doesn't require you to move back and forth on pages, and can manage everything from a single page. TMR has one of the best customer service helping out customers to get the best data reporting experience. TMR provides users with all major (15+) ad generating platforms, with many more on its way. Reviews say TMR is one of the best tool . With some of the best features and their stupendous pricing, Two Minute Reports is a game changer.
Apart from others, Two Minute Reports provide data options like automatically setting all null values to zeros. With TMR, Google Data Studio can be set up in a few clicks, including e-commerce, social media, SEO, advertising, and web analysis. Two Minute Reports supports all major connectors, with many more on the way.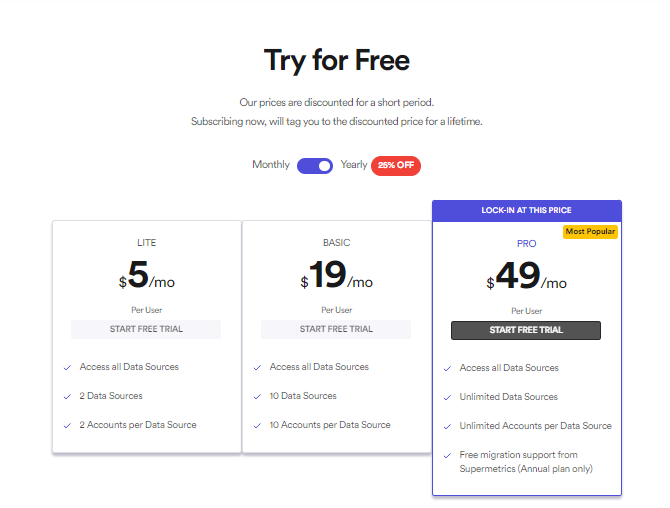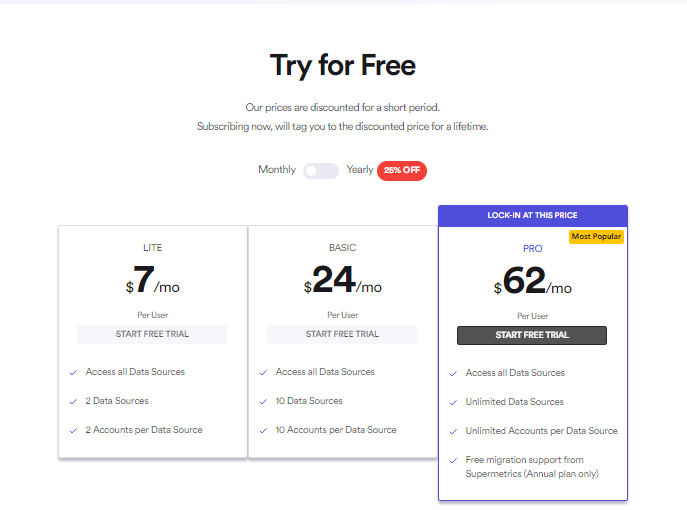 Two Minute Reports Pricing starts from $5/mo when billed annually. And $7/mo when billed monthly. Offering the lowest pricing of all with all major data connectors and some great features.
Unlike others, Two Minute Reports provides 2 data sources and 2 Ad accounts per data source with their starter plans. For example, if the user chooses Facebook Ads and Google Ads. They will be able to add 2 Ad accounts for Facebook Ads(2 Facebook accounts). And 2 Ad accounts for Google Ads (2 Google Ads accounts). In Two Minute Reports, users can customize every plan. They are given the option to add as many users and data sources as they desire.
the pro plan from Two Minute Reports offers unlimited data sources and unlimited Ad accounts to users. TMR allows you to add 100's of Ad accounts. No problems! While others only provide limited data sources with their pro plans, TMR offers unlimited data sources. And still costs lower than others and provides great value for the money.
Funnel is the marketing data platform that helps you understand how your marketing is performing. It gives you data that is clean, accurate, and always up to date – business-ready data that makes sense. Our mission is to help marketers like you to become more data-driven.
Funnel mainly supports ETL, therefore requires help from developers team to set-up and run the whole process. Funnel has one of the largest collection of data source integrations, surpassing over 150. Funnel provides a decent customer support experience. Funnel is a great tool for large scale companies, but isn't the first option for small to medium scale companies.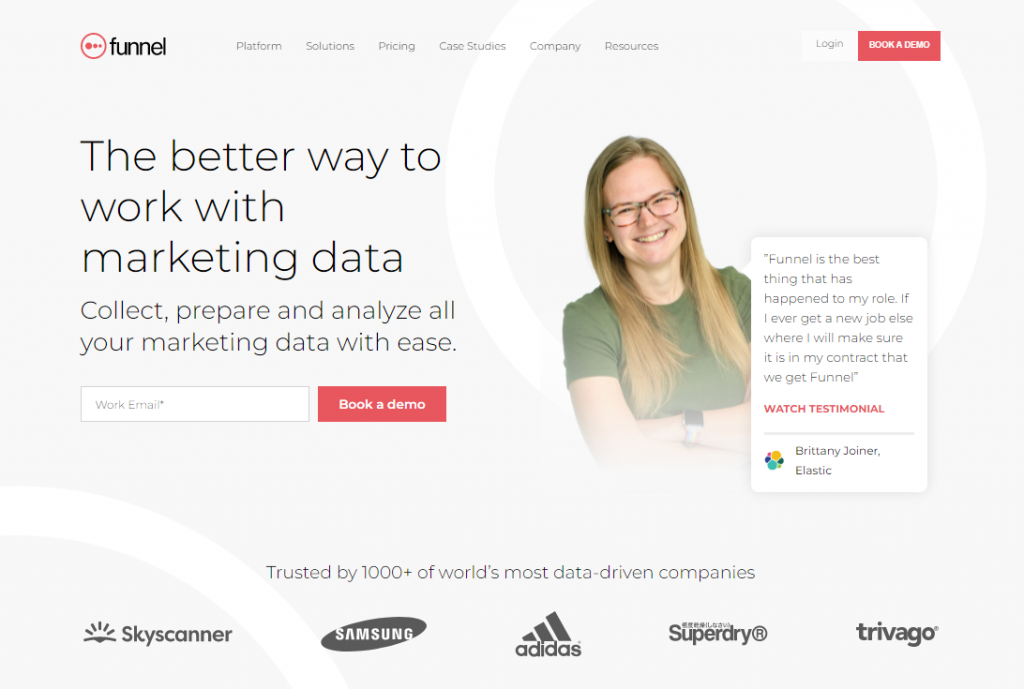 Funnel's pricing structure starts from $399 and goes up to $1999.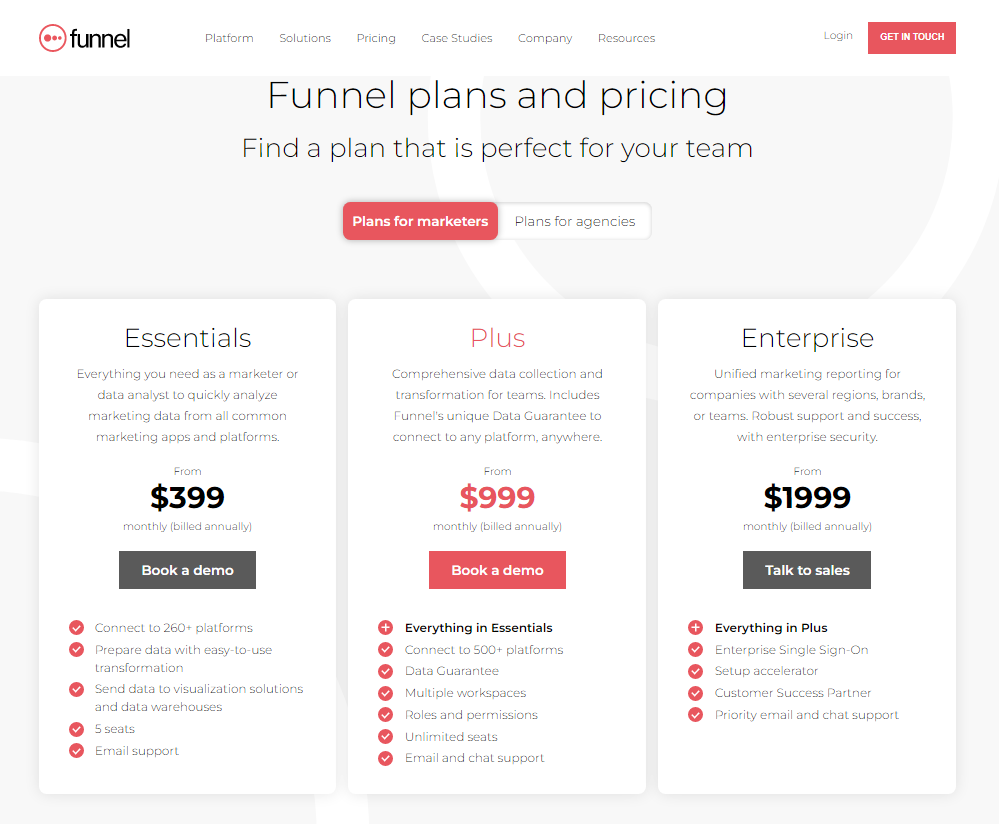 Fivetran is one of the smartest ways to replicate data into your warehouse. They have built the only zero-maintenance pipeline, turning months of ongoing development into a 5-minute setup.
Their connectors bring data from applications and databases into one central location so that analysts can unlock profound insights about their business.
Fivetran is another tool that mainly promotes ETL, Fivetran is mainly for customers who use SQL, Snowflake and BigData queries. Fivetran has a good amount of data source integrations. Their pricing structure is a complicated one based on a credit system.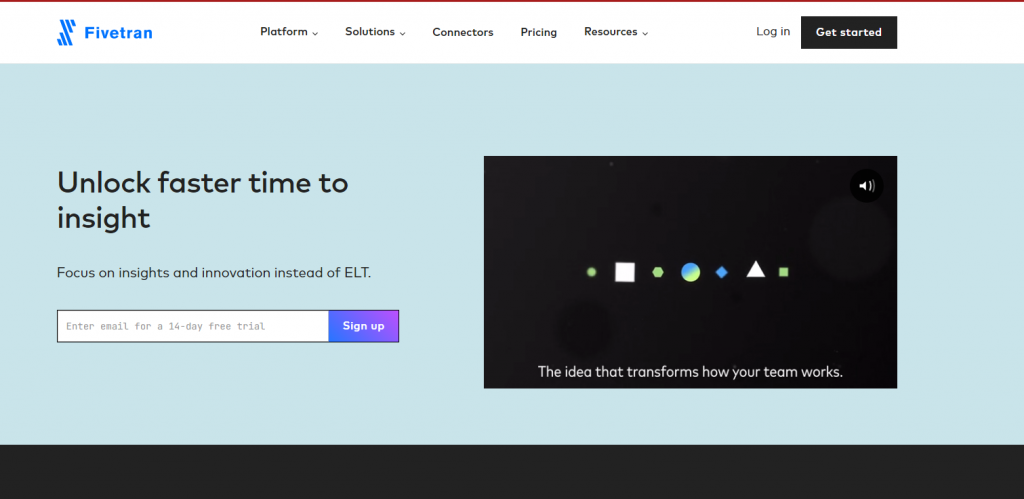 They charge you for the number of rows processed per month. On average, a company processes around 500k rows per month, thereby the price range will be within $275 to $550.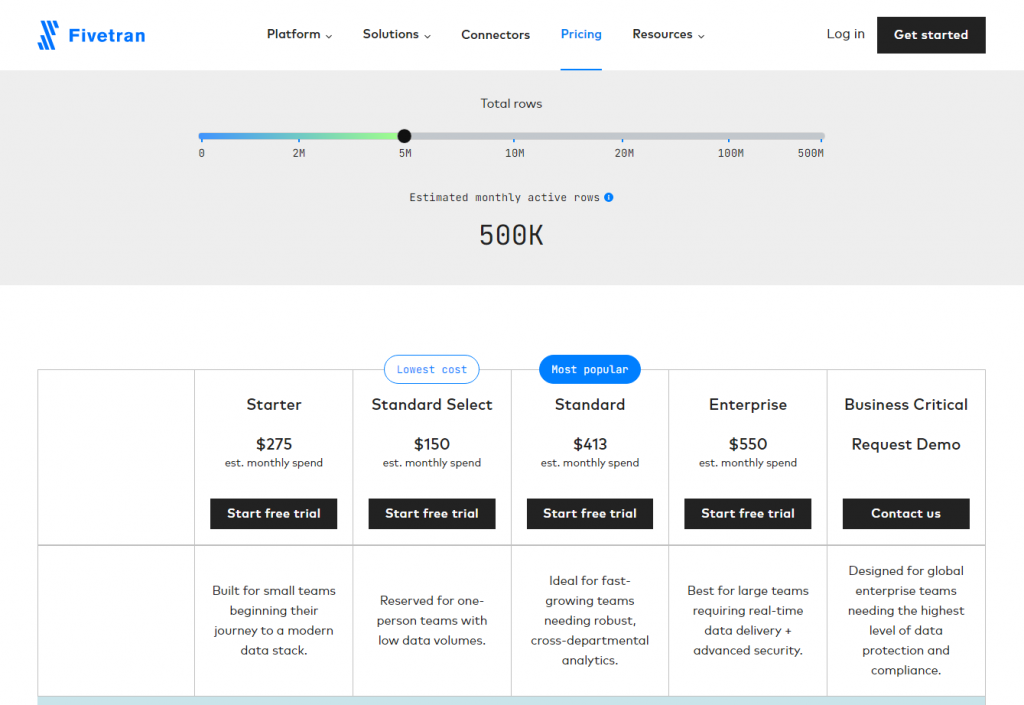 ReportGarden help agencies streamline invoicing and reporting for marketing campaigns. It directly puts all customer data inside a reporting template, once metrics are selected.
The initial onboarding is experience wasn't the best for many users, but subsequent support was much appreciated. The tool is commonly discouraged for being a very slow tool and taking loads of time to even load a single page. Report Garden mainly supports Facebook, Twitter, Instagram, Google ads and analytics.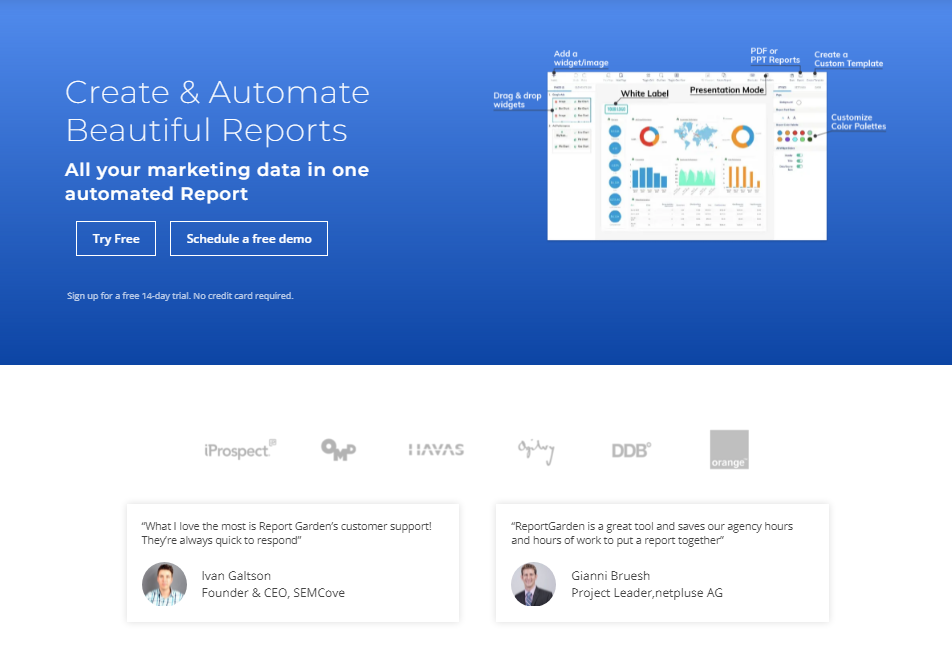 Their pricing model starts from $89/mo and goes up to $649/mo, there are 4 pricing models and each varies in features according to the price. The basic model gives ad monitoring in Google ads and Google Analytics.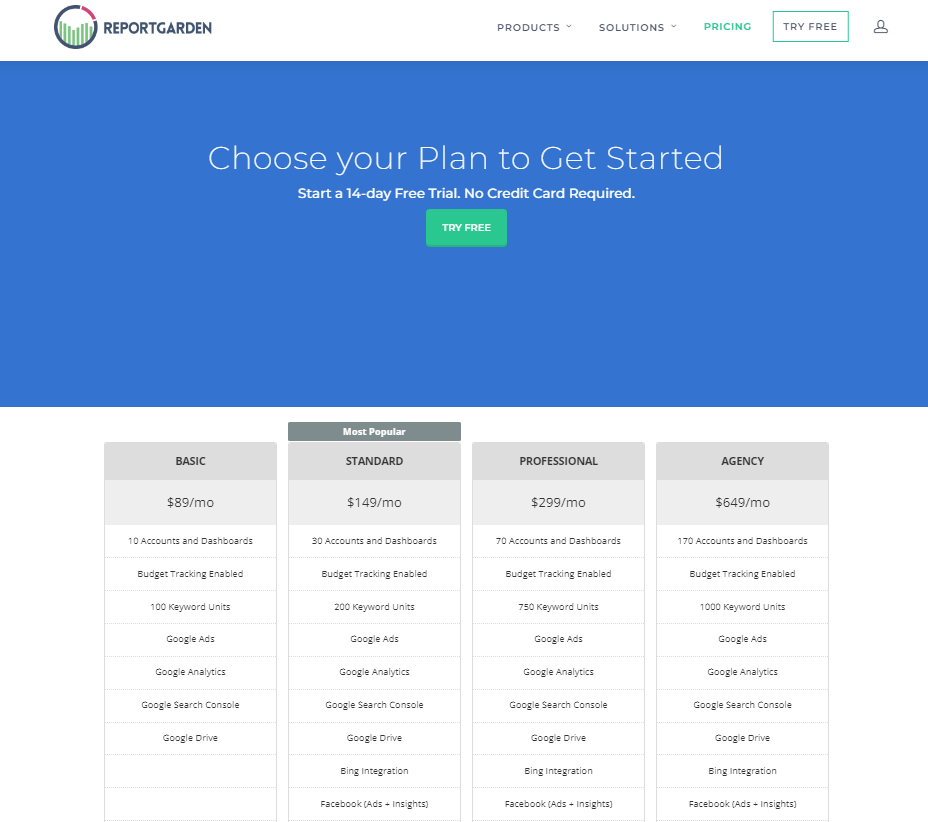 Swydo offers you the cap potential to create custom-designed reports, screen KPI's, manage tasks, optimize workflows, or even track time. You can pull in data from one of many distinct social media and enterprise intelligence platforms.
Swydo additionally connects with MailChimp, Salesforce, and an extensive variety of Google offerings that will help you construct a white label report with custom-designed templates and predefined widgets.
While the tool is usually appreciated for its easy onboarding experience, people find problems with their communication techniques. Their customer support is not the best in class. And lack some features that other tools have.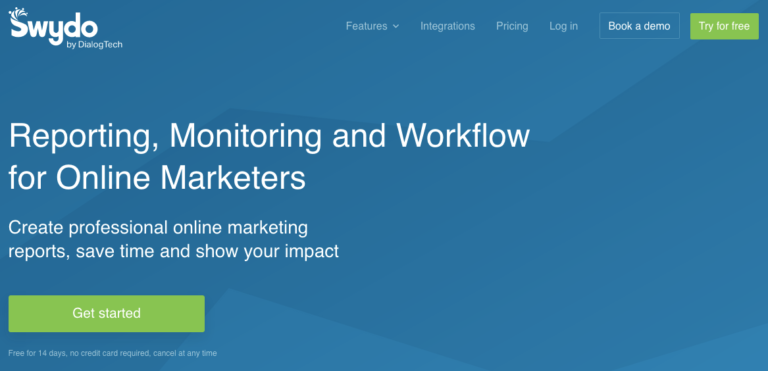 Swydo's price starts from $39/mo for 10 data sources and increases with the addition of more data sources.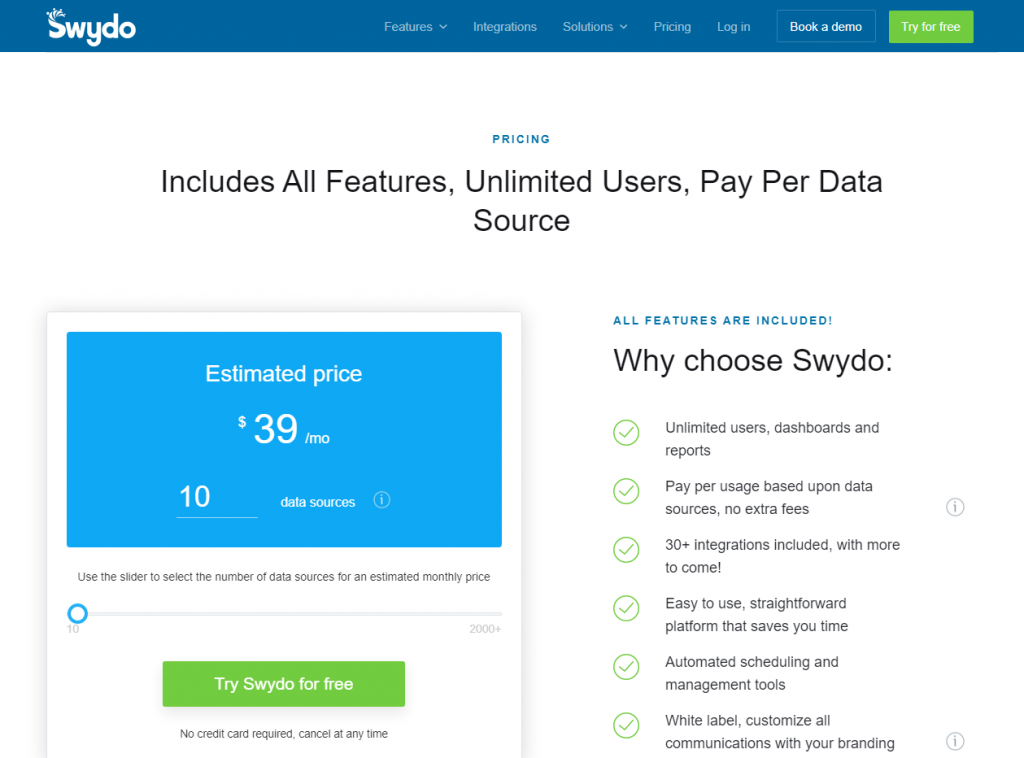 DashThis connects with a multitude of outside data sources. The reporting functionality is very intuitive, as PPC, SEO, and social media reports can all be generated with just a few clicks of the mouse.
You can pick and choose which KPIs you want to include with the integrations. DashThis comes with a clean dashboard in which white label reports can be customized to reflect the colours, fonts, and branding of your clients.
Dashthis is much appreciated for its interactive dashboards, a good amount of data source integrations, and quick response for customer queries. Dashthis has the problem of vendor locking. Customers are only allowed to use Dashthis's platform to view reports. Even when the customer has moved to another reporting platform, They'll have to pay Dashthis to view their existing reports.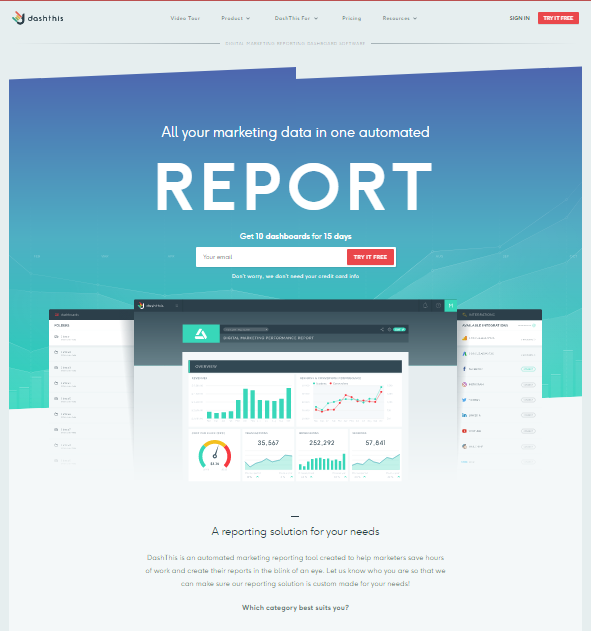 Dashthis's pricing structure varies from $33 to $339.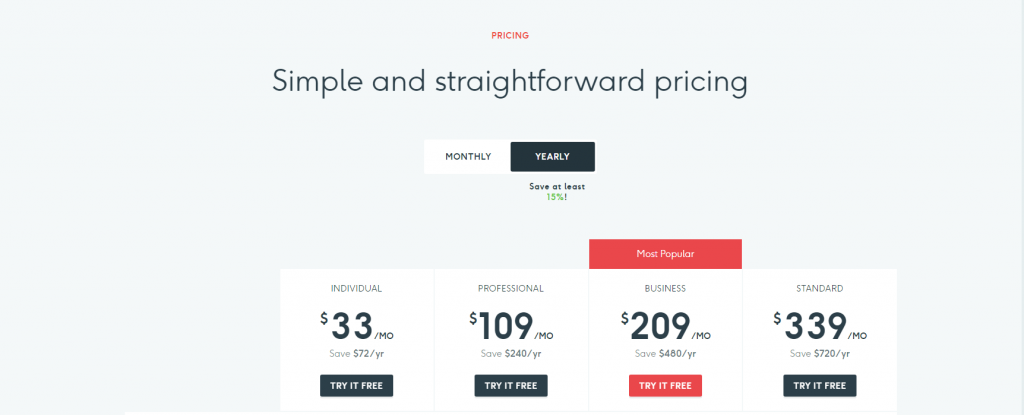 Automated and easy-to-use reporting platform for digital agencies. Build visual cross-channel multi-account marketing reports your clients will actually read.
Automate data collection from all your marketing channels; Have all your performance metrics in one place with a single click; Align your team and clients with scheduled and on-demand reports, shared access, and real-time viewing; Save time on the boring manual data pulling and reporting tasks so you could focus on performance.
Same as Dashthis, Whatagraph is praised for their quality Dashboards, and good chunk of data source integrations. But has the problem of vendor locking.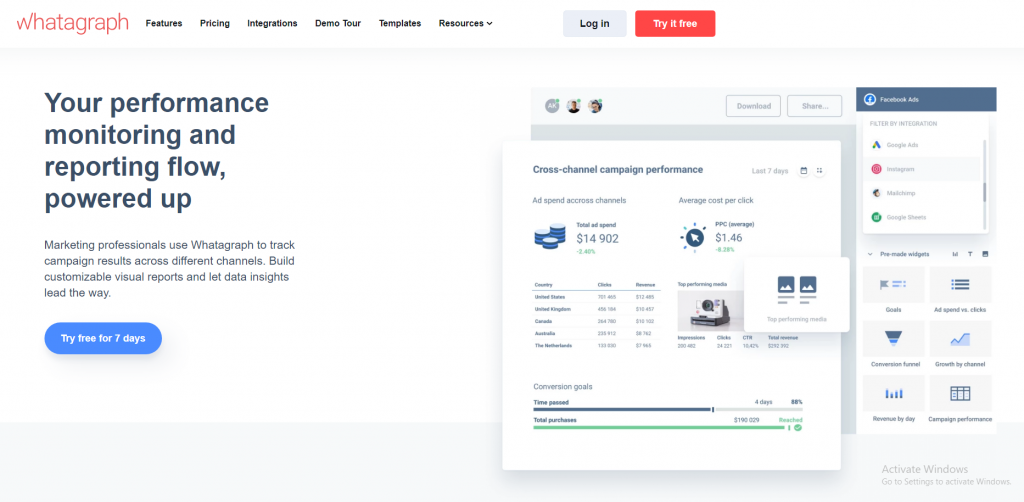 Whatagraph Pricing starts at $119 and goes up to $699.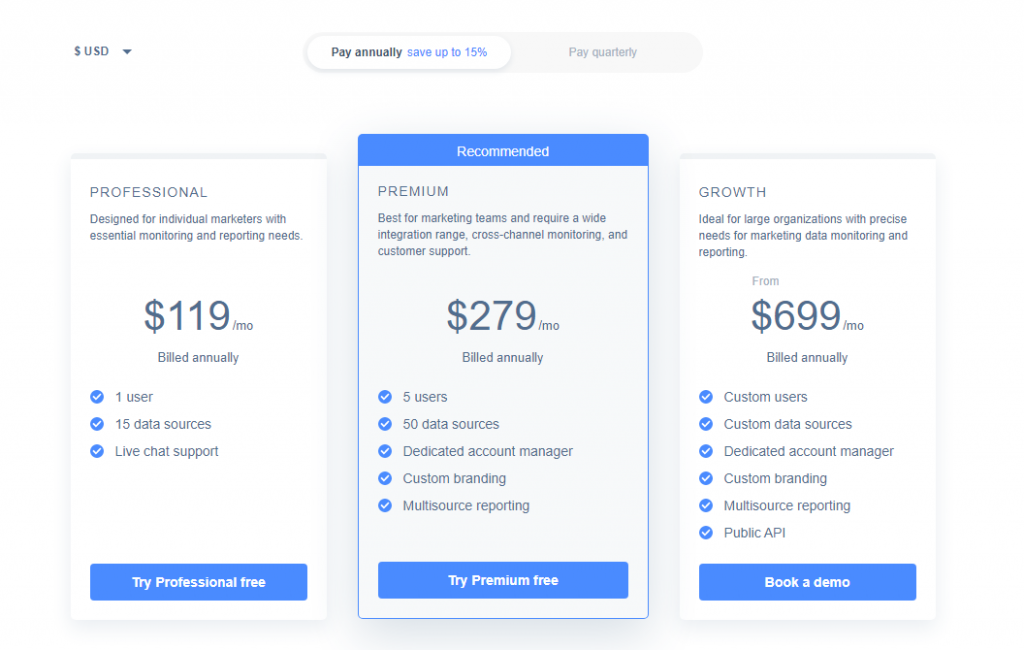 BI solution to automate marketing reports with Google Data Studio templates. It works for Facebook (Ads and organic) and Instagram
Porter provides their customers with some of the best, data-rich templates. They resolve customer queries in a brilliant way. But Porter has a very limited number of data source integrations.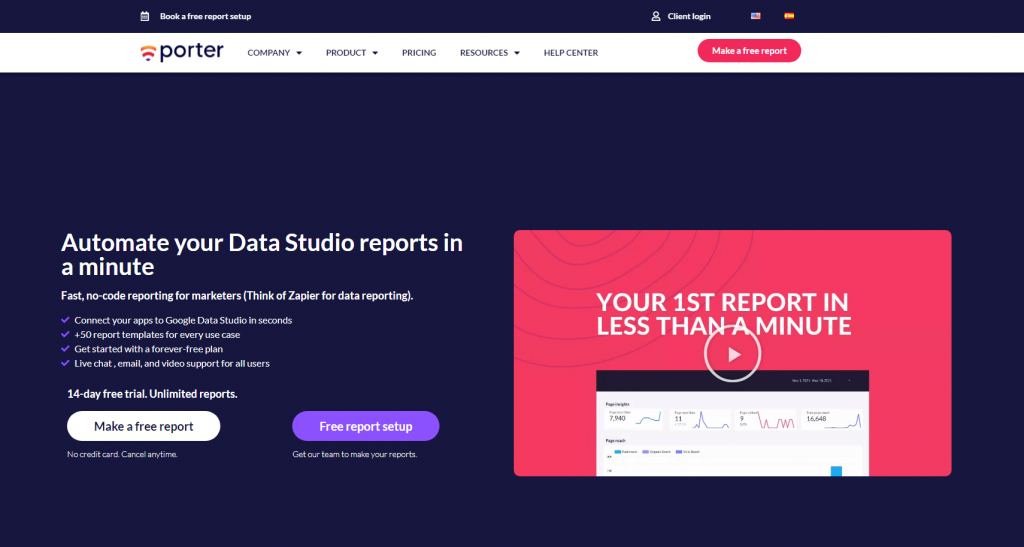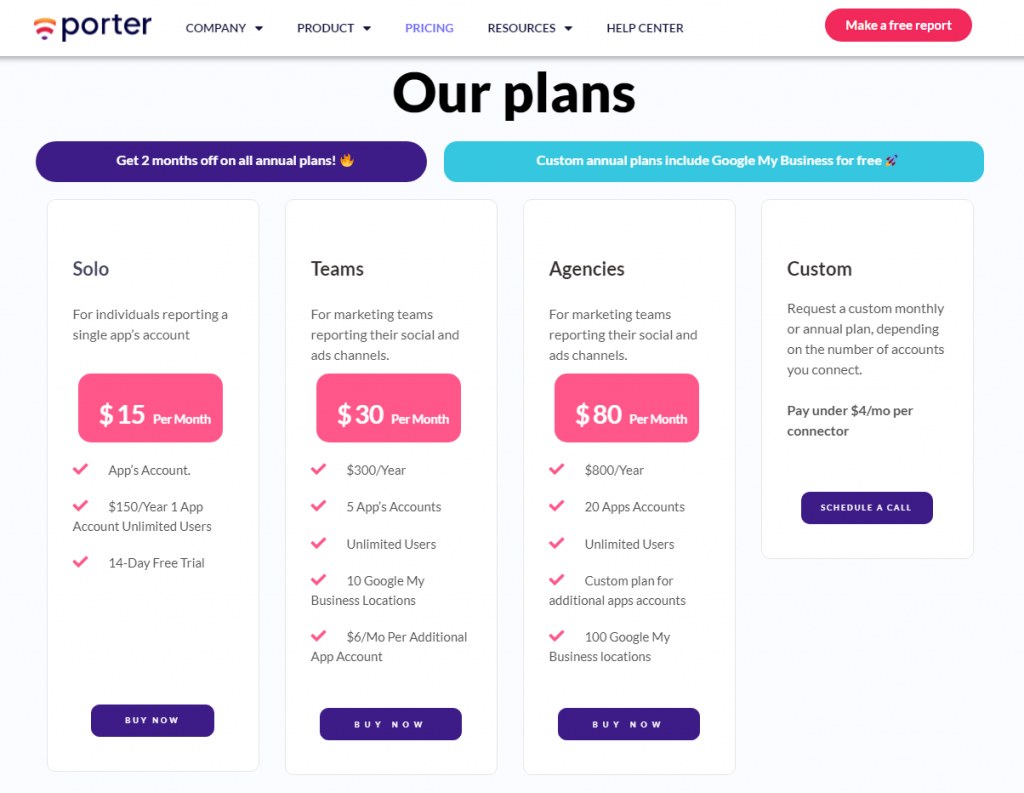 Zoho Analytics gives you a suite of powerful tools to analyze data and create visually stunning reports. It's geared towards businesses that need an extensive and robust analytics package.
Companies that run other Zoho products, such as Zoho CRM and Zoho Books, will appreciate how easy it is to import, analyze, and report on various KPI's cross-platform. But for other smaller companies, it is not the best experience and the price will land slightly on the higher side.
One of the best features is the ability to completely white-label reports and embed them in your application or product. You can also host the reports on a dedicated portal or website.

Their pricing model varies from $25/mo to $495/mo based on the number of users and ad accounts.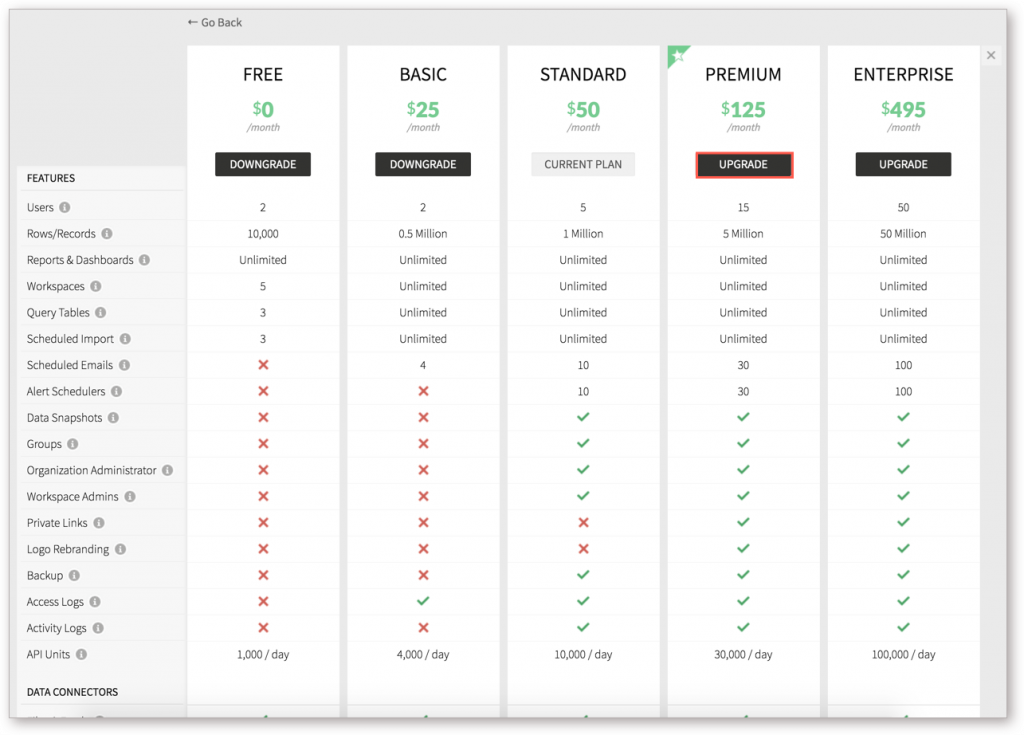 Improvado connects with over 100 marketing platforms and allows users to create reports and generate live links to share with clients or bosses.
The robust reporting functionalities give you the ability to visualize data inside the custom dashboard. Improvado can also connect and share data with many business intelligence tools, such as Google Data Studio, Excel, or Looker.
Improvado is one of the best ETL tools on the list but is said to have comment connectivity issues and provides very less customization options.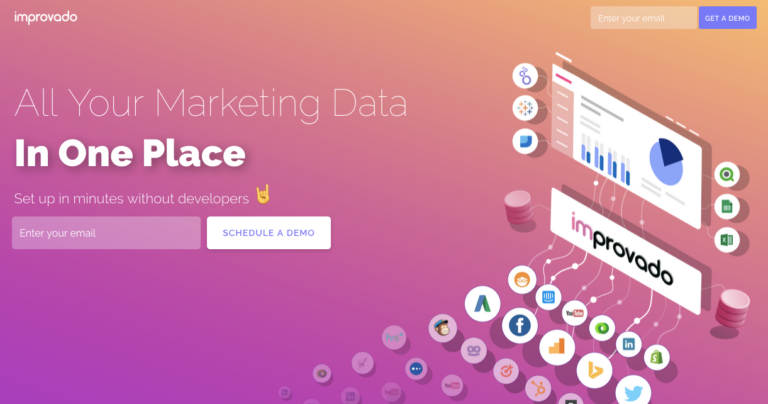 Improvado offers a custom pricing model based on the user's needs.
11. AgencyAnalytics
AgencyAnalytics gives you the ability to create easy to digest and fully customizable reports.The drag-and-drop builder enables you to create custom white label reports that can be sent out automatically on a daily, weekly, or monthly basis.
In addition to the usual social, SEO, and paid ads reporting features, AgencyAnalytics also comes with call tracking, which is great for companies with an in-house sales department. The dashboard is clean, easy to use, and laid out intuitively for those clients who may not fully understand digital marketing.
This tool has some good reviews among marketers, but some people feel they should have more pricing tiers. And should be optimized better for use.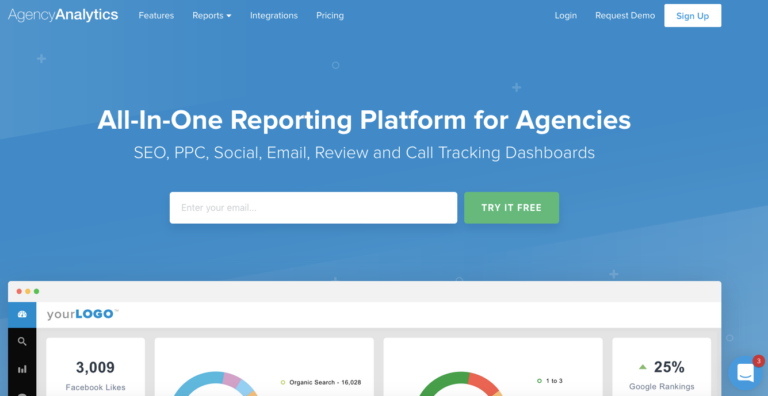 Their pricing model starts from $10/mo. They provide custom plans that suits the users needs.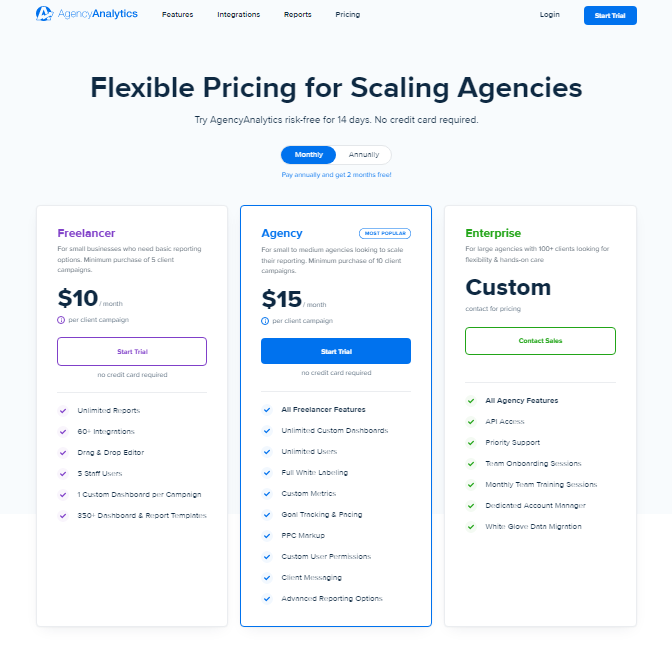 12. Cyfe
Cyfe is another powerful reporting tool designed for agencies that require highly complex reporting functionalities. It connects to multiple data sources via pre-built widgets. There's no need to hire a programmer to import data from various sources.
In addition to the pre-configured widgets, you can also pull data from any SQL or TXT source and create a custom subdomain on your company website for a fully white-labelled experience.
This is a decent reporting tool option. But has very limited integrations and metrics.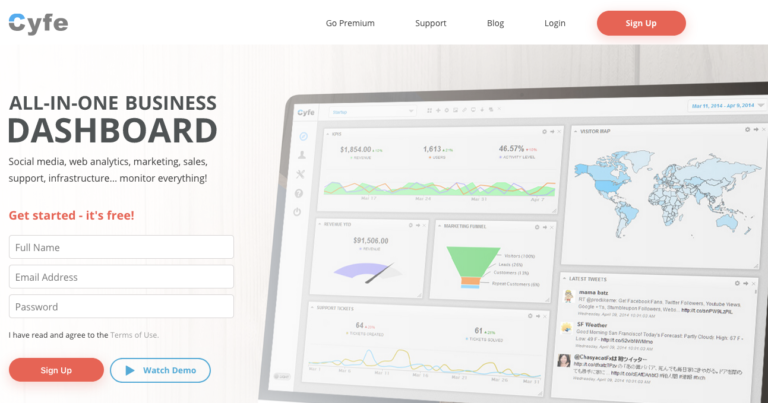 Their pricing model starts at $19/mo and goes up to $89/mo based upon the number of dashboards provided and the number of users.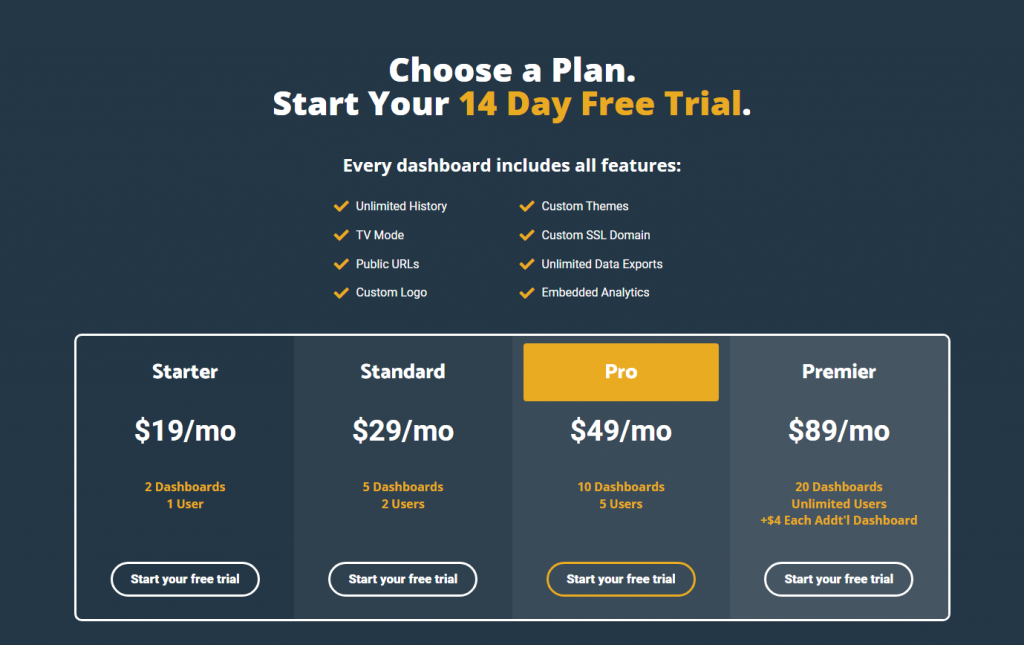 13. Quintly
quintly helps streamline the reporting process so you can set it up once and then forget about it. It will automatically pull in data from various social channels and then send out reports daily, weekly, or monthly.
It features the ability to export data in a wide variety of formats (PDF, XLS, CSV, and even PPTX). The robust API helps prevent data siloing by integrating Quintly data into existing business intelligence systems.
The tool is appreciated for making it easy to compare reports and metrics, but its price is a bit on the higher side.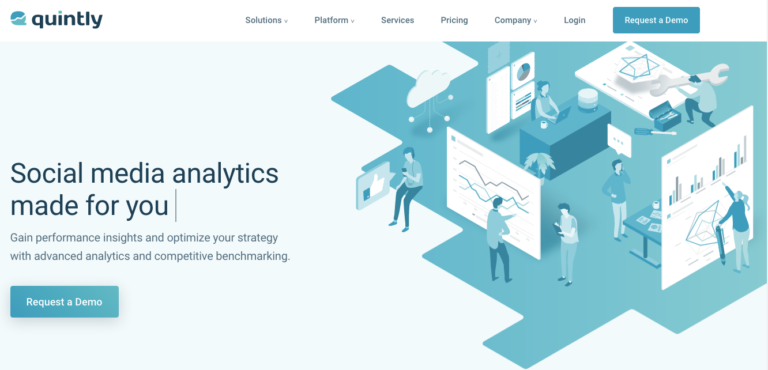 Quintly provides a custom pricing plan, but their pricing is a bit on the higher side.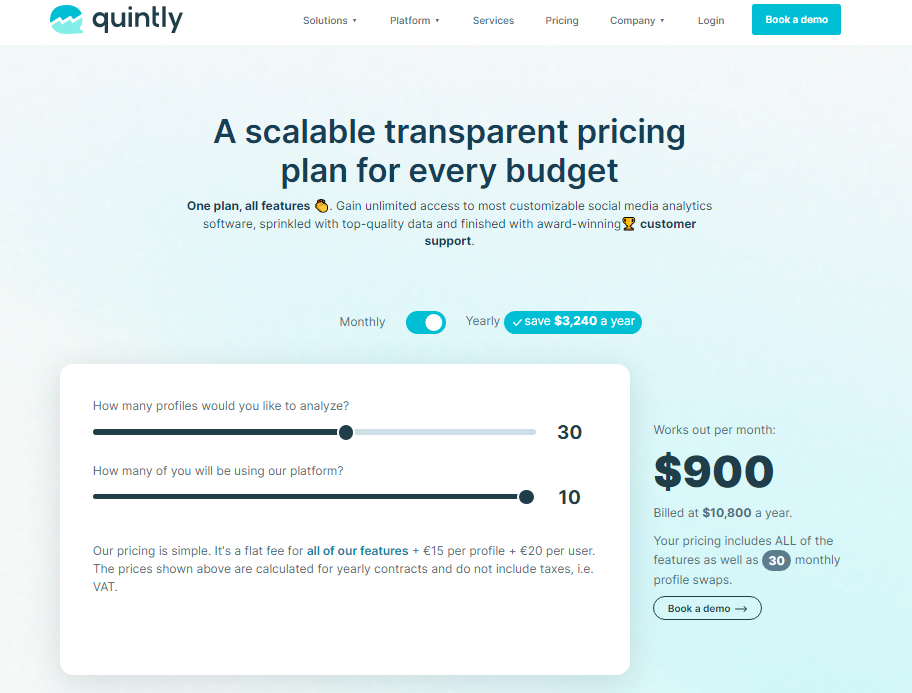 14. Rival IQ
Rival IQ focuses on social media analytics that is designed to boost performance and save time. They accomplish this by giving agencies key metrics that can help drive engagement and justify social media campaigns in the eyes of clients.
Rival IQ also offers competitor tracking and intelligence functionality, which will quickly allow you to gain valuable insights into their strategies and adjust accordingly.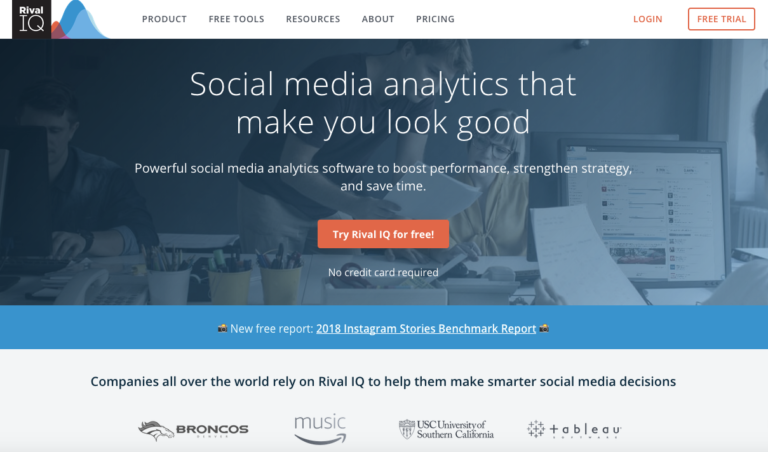 Rival IQ has some of the best-visualized reports, but its pricing is too high.
Their pricing model starts at $239/mo and goes up to $519/mo. Based on user accounts and other factors.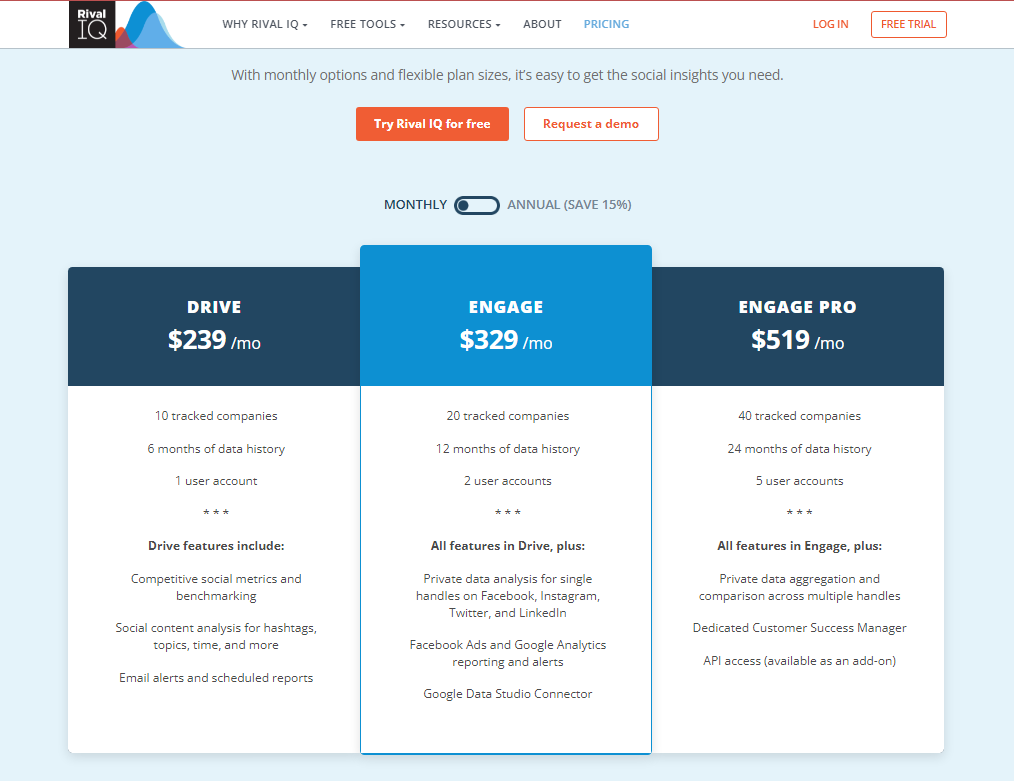 Final Thoughts
There are a lot of different alternatives to Supermetics on the market. Even though some of them seem similar at first, each serves a different purpose and can be great in use.
Some of the tools on this list are excellent for enterprise companies with lots of different data sources and visualization needs, while others are great for smaller agencies that are looking for an easy-to-use tool.
Whatever your specific case is, we hope that this article will be able to help you find the one Supermetrics alternative perfect for your needs.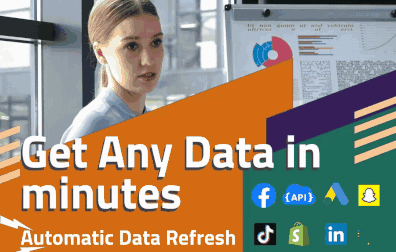 Check out Two Minute Reports Now!