Two Minute Reports (TMR) is a Google Data Studio connecter, that lets you get data from almost anywhere, and create interactive cross-channel reports in Google Data. This makes it easy for users to analyze data and create reports in an easy and secure environment.
Google Data Studio gives you free hands to create the kind of dashboards you want, while TMR helps you quickly pull data from as many sources as you need. And getting started only takes a few minutes, since all you have to do is authenticate the data sources you'll be using.
Use Two Minute Reports if
You want to get data from multiple external data sources for Marketing, SEO, Product, PPC Advertising, etc.
You don't have time to look into multiple places for data
You don't want to spend on expensive, complicated tools
You don't want to write any code or scripts
You want to avoid manual work and automate your reports
You want the full power of Google Data Studio to analyze, create & share reports
You want an auto-updating live dashboard report
You want a modern & simple reporting tool
Features
Two Minute reports (TMR) is built with high attention to your experience getting data, analyzing data, creating reports and dashboards.
Get Data from External Sources

Connect with multiple data sources using our built-in native connectors like Facebook Ads, Google Ads, LinkedIn Ads, Google Analytics, MySQL, etc. See our full list of connectors here.
Get predefined Metrics & Dimension your favourite data sources
If a connector doesn't exist yet, use our API Bridge connector to get data from any JSON based API source

Create Reports

No need to write a single line of code
Simple to use, baby-friendly interface to get your work done without breaking your head
Be in control – create your own metrics using custom formulas
Reuse your existing reports, and create new reports out of them in one click.

Report Templates 

Don't start from scratch, pick from any of the ready-made templates
Designed by experts to attract attention to data and design

Automate

Create your report once and let them run on auto-pilot
Configure when to refresh your data based on your schedule
Automatically send E-Mails to your clients and team with Excel, PDF attachments
Configure Queries, Data sources, and Schedules

?Share & Collaborate 

Share reports with your Team or anyone
Let your team come together and build reports together
Our Goal
Help users create reports faster and automate anything that needs to be done a second time.
Pull metrics and dimensions from external sources like Facebook Ads, Google Analytics, Google Ads, etc.
Design your dashboard/report in Google Data Studio
Keep your reports fresh with up-to-date data
Email Automated Reports/PDF/Excel files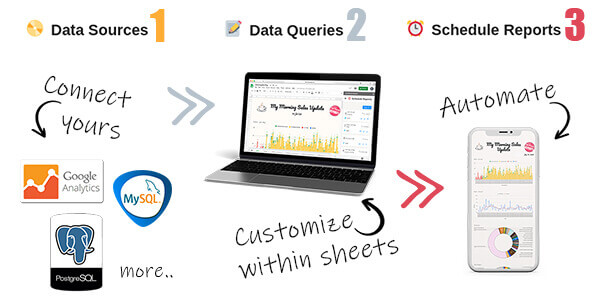 There are 2 main sections in TMR, that you can use to create your Report or Dashboard. They are,
Data Sources

This is where you will connect your data from Facebook Ads, Google Ads, Google Analytics, etc. with Two-Minute-Reports
You can add many data sources that you'd want or remove old ones from your account, in this section

Query Configs

This is where you'd define which data to pull from your data source and save it into Google Data Studio.
You can create multiple queries and fetch as much data as possible into Google Data Studio.