Creating Facebook Ads reports is tedious and time-consuming. Let's face it – if your campaign has been running for a month or more without results, then it may be time to re-evaluate exactly what you're doing.
Each campaign is different, we'll show you a step-by-step guide of how we build our comprehensive Facebook Ads report to analyse what's going on with your current (or past) campaigns.
Without writing a single line of code you can automatically pull the latest data from Facebook Ads to Google Sheets. All this without sacrificing data security, with our encrypted Google setup and data stored in your private Google Sheet, you can be confident that you are safe. Let me show you how.
If you want something quick, here is a video to help you through the entire setup process
Connect your Facebook Ad Account
Install Two Minute Reports, if you have not done already and go to the Data Source section.
Go to the Data Sources section
Select Facebook Ads from the drop-down
Click Login with Facebook and add your Facebook Ad account as one of the data sources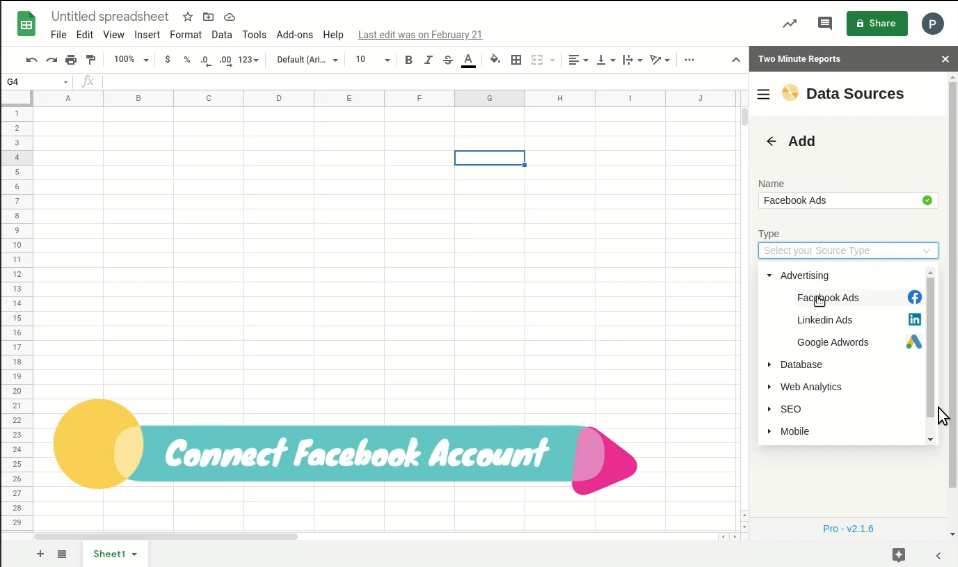 Select the data you need
To pull Facebook Ads performance data you start by creating a new query by navigating to Data Queries and clicking on Add new.
A query form will be displayed where you can name your query and select the newly created Facebook Ads Data Source in the previous step. Select the sheet and cell location for saving the data onto Google sheet.
You can then freely select the metrics and dimensions you need for your Facebook Ad Campaigns.
There are more than 100+ metrics and dimension for you to choose from to analyse whats going on with your Campaigns. Now, we'd just select Clicks, Reach, Impressions, Date, Ad Name and Campaign name in the metrics/dimensions fields.
You can also select different attribution/conversion window settings, to configure how want to report your conversions in Facebook. Once you are happy with the configuration you can press run Query.
Now you can use different Google Sheets features like Pivot Table, VLOOKUP(), charts to create and customize your custom report.
Once a report is created you can create a Schedule in Google Sheets to automatically update your sheets and keep your data up-to-date. This feature is handy to send emails, or just refresh your spreadsheets with live data and use it as a Dashboard.